launched 2011
tonnage 66,086
length 237 m
crew 800
capacity 1,250
Marina blends sophistication with a contemporary flair to create a casually elegant ambiance. From the sparkling Lalique Grand Staircase to the stunning Owner's Suites furnished in Ralph Lauren Home, designer touches are everywhere, highlighting the finest residential design and furnishings. More than anything, Marina personifies the Oceania Cruises experience.
Artist Loft: For budding artists, there is the Artist Loft enrichment centre, where talented artists-in-residence offer step-by-step instruction. Under their watchful eye, you may paint with oils or watercolours, sketch or create collages. The courses change continually and are designed with every level in mind, so everyone from beginners to seasoned professionals will find the classes engaging and enriching. With the masters' guidance, your talents will quickly blossom.
accommodation
deck plans
dining
entertainment
health & fitness
enrichment
useful
misc.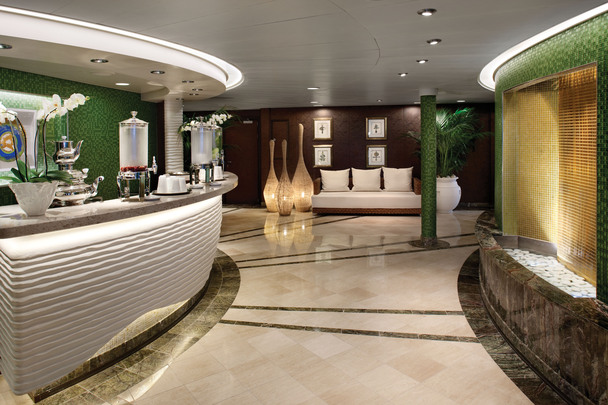 Canyon Ranch SpaClub
Healthy living and spiritual awareness are at the very heart of the Canyon Ranch philosophy. Pushing the boundaries of spa services well beyond the traditional, its award-winning health resorts have been transforming lives since 1979, when the first one was created in Arizona's spectacular Sonoran Desert. Oceania Cruises and Canyon Ranch have recreated that unique, inspiring environment on board their ships. Through fitness, exquisite Canyon Ranch cuisine and a multitude of healing therapies, you can discover ways to unleash your untapped potential and make positive changes in your life. Of course, the star element of any Canyon Ranch experience is a spa treatment that will leave you wondering how anything could feel quite so perfect.
Lose yourself in deep relaxation with a signature Canyon Stone Massage or perhaps a Thai Massage, which originated in Buddhist monasteries. Ease into the soothing waters of the private, open-air whirlpool spa. All Concierge Level and Suite guests enjoy FREE unlimited access to the beautifully appointed Canyon Ranch SpaClub private Spa Terrace.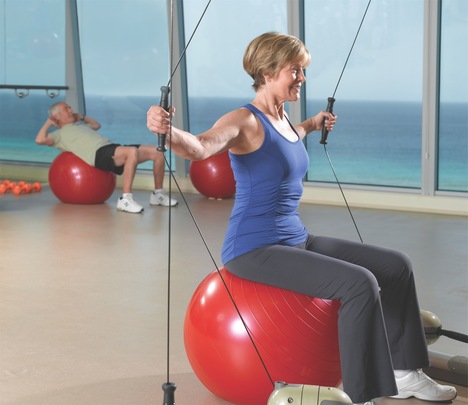 Fitness Centre & Wellbeing Instructors
The ship's fitness professionals can help you fine-tune your exercise programmes and help you achieve your fitness goals, no matter what your current physical condition is. As well as fitness training the ship offers further programmes to enhance your personal well-being, such as orthopaedic assessments, back care and pilates. The Yamuna Foot Fitness classes, look to improve the alignment and flexibility of your feet.
Pool & Sports Deck
On the sparkling Pool Deck, take a refreshing dip in the large heated pool or relax in one of the two whirlpool spas. Plenty of comfortable chaises and luxurious day beds invite you to lounge poolside while you sip your favourite cocktail.
For more active pursuits, head to the Sports Deck high atop the ship. As you take in the fantastic views, enjoy some friendly competition on the shuffleboard court or play nine holes of golf on the putting greens.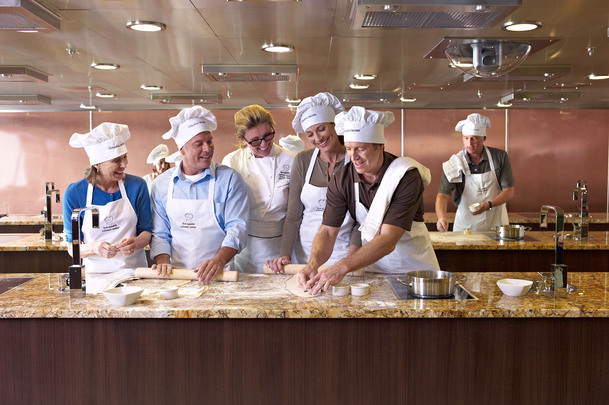 The Culinary Arts Centre
For those enthusiasts seeking enlightenment beyond that found in a library or a lecture, Marina offers the only custom-designed and truly hands-on cooking school at Sea. At The Culinary Centre, you will learn how to prepare a variety of exquisite dishes at your own fully equipped workstation in a state-of-the-art teaching kitchen. Master Chefs from around the world offer guidance and inspiration to fine-tune your techniques, but you will actually prepare the dishes yourself. It's the ultimate way to learn and truly absorb every step of each recipe, especially since at select ports you may accompany the instructor chefs while shopping for fresh ingredients ashore at local markets on the exclusive Culinary Discovery Tours™.
Onboard Classes
Amore Italiano
It's hard to find a traveler who, when asked, "What is your most memorable meal?" doesn't include an Italian dish on the list. This class was designed around the favourite Italian dishes of the faculty from the major regions of Italy. You'll master favourite dishes from Liguria, Tuscany, Venice and Puglia. Learn about the various olive oils of Italy and sample some local wines. Learn to appreciate the regional differences in Italian cuisine and how to prepare an authentic Italian feast at home.
At Home in Sicily
Enhanced over the centuries by Greek, Italian, Arab, French and Spanish culinary influences, Sicilian cuisine exemplifies the inventive use of local and seasonal ingredients. Join in a celebration of pasta, fish and rice dishes from the home kitchens of their Sicilian faculty. Plus, learn what makes Sicilian olive oil and wines so popular.
Bundles of Love
Who doesn't enjoy a bite of food with something special inside? From sweet to savoury, this class is a fun way to spend two hours and taste lots of delicious food. You'll travel the world in this class, making dishes from around the globe, all celebrating these tasty little bundles. Dishes will vary by season, and you'll master a range of recipes that call on a variety of cooking techniques.
Cote D'Azur
Known as the French Riviera, the southeastern coast of the Mediterranean is a rich culinary region extending from the Italian-French border in Liguria to the sunny beaches of Saint-Tropez. As a result of spending much time in this region, their faculty have selected their favourite recipes from Liguria and Provence, creating a class celebrating dishes you can easily replicate at home. Prepare dishes that capture the magnificence of the fresh produce, lavender fields, abundant seas and aromatic herbs of this enchanting Mediterranean coastline, and enjoy a glass of the region's whimsical rosé.
Cuban Family Table
Explore Cuba via family-treasured recipes from the kitchens of home cooks who have passed their secrets down over generations. Learn the key to mouthwatering pastries, rich stews, succulent meats, savoury rices, creamy beans and abundant desserts. Plus, learn the secrets of the perfect mojito, and the daiquiri – made popular by Ernest Hemingway – and travel back in time with us to Old Havana!
Global Gourmet
They believe that one of the main reasons to travel is to taste the cuisine of the places you visit. By doing so, one gains an appreciation of the ingredients, traditions and family life of the people and place. This class was designed to help you better appreciate the cuisines of the world, and to explore the spices, cooking techniques, ingredients, vessels and preparation of foods from around the world. Come along and take a trip around the world with us – prepare and sample great food, and dream about where you want to travel next!
Happy 80th, Jacques Pépin
Help us celebrate the glorious career of their Executive Culinary Director, Jacques Pépin, regarded in the chef community as the master of technique. We've selected recipes for this class that embrace Jacques' lifelong passion for culinary technique. Prepare delicious dishes while practicing the basic techniques that chefs have learned from Jacques Pépin over the past six decades. Drink a glass of Jacques' favourite champagne as a toast to the master, and send a happy birthday photo to him at the conclusion of each class!
I Primi
We all love ordering pasta when travelling in Italy or for a night out, but how about eating pasta in the true Italian tradition – at home! This popular class covers the basics of pasta: fresh vs dried, cookery and sauces. Gather around their chef station and experience the joy of making fresh pasta, then roll out pasta dough at your station and make two sauces. You'll also make a dish with dried pasta and see a chef demonstration of advanced pasta techniques.
La Technique Francais
Every professional chef must master the fundamentals of French cooking, and those foundational techniques form the basis of this class. Using La Technique, the chef's bible from Jacques Pépin, they have created a class around mastering the principles of fine French cooking. Even the most accomplished professional chef reviews these techniques on a regular basis, so learn how to enhance your cooking at home while preparing tasty recipes especially selected to help you improve your technique.
Land of Argan
Based on the travels of Executive Chef Kelly in Essaouira, Southwest Morocco, this class provides a foundation in the hottest trending culinary cuisine today. Learn the basics of Tagine cookery and gain an understanding of how the many spices of Moroccan cuisine are blended to create the unique and sensual intersection of sweet and savoury. Taste Argan oil and learn why it is prized for culinary and cosmetic uses worldwide.
OPA!
Greek cuisine is so popular with their faculty, they asked them to nominate their favourite recipes from Oceania Cruises' ports in Santorini, Rhodes, Crete and Athens. Travel with us across Greece and learn their secrets for perfect grilling, using warm spices, seasonal vegetables and their secret ingredient – extra virgin olive oil. If you are a fan of healthy food with lots of flavour, this class is a must on your culinary bucket list!
Ottoman Palace Feast
For 400 years, the Ottoman Empire sat at the nexus of the East and the West. The feasts of the Topkapi Palace were amongst the most ornate and complex in culinary history. Immerse yourself in the deep and rich culinary history of Istanbul, and enjoy learning flavourful and elegant recipes you can easily make at home. This is the perfect class if you are traveling to Istanbul.
Patio Pleasures
Tired of the same old patio party fare? It's time to try out some tasty new favourites for outdoor entertaining. Summertime patio dining is all about simplicity and flavour – when the weather is perfect for grilling, and fruits and veggies are at the height of freshness. Learn professional grilling techniques while mastering flavourful dishes that will expand your repertoire and delight your guests.
Pizza Master Class
Based on the award-winning new book The Pizza Bible, this class was designed by the author & producer of this at-home pizza cookbook. Discover the essentials of regional pizza doughs, and make traditional, deep dish and NY-style thin crust doughs. Learn how to grill a pizza on your backyard barbecue and how to make authentic pizza sauce. Gain the confidence you need to host a pizza party at home with authenticity and great taste!
Planet Veggie
It's not surprising that the most popular cookbooks selling today are promoting increased innovation and greater diversity with vegetables. This class is designed to share their favourite recipes using vegetables, grains and alternative flours. Learn how to go meatless without sacrificing on taste. Inspired by world cuisines that rely heavily on vegetables, this class will add several new dishes to your healthy recipe repertoire.
Rock the Wok
The primary cooking technique of Asian cuisine uses very high heat and the vessel known as a wok. In this class, you will explore a number of the diverse cuisines of Asia. You'll master the Asian pantry of ingredients used in these cuisines. Knife skills, mise en place and high heat cooking are the fundamental techniques of this class. You'll also learn how to sear fish and roll sushi, along with the basics of rice wine and sake.
Sweets for the Sweet
Indulge your sweet tooth in this celebration of desserts. In addition to learning how to work with chocolate, you'll master the proper culinary techniques to create elegant and decadent desserts, along with classic treats. You will also enjoy learning about some of the trendiest after-dinner cocktails and tasting dessert wines for the perfect post-meal pairings.
Viva Tapas
The tapas lifestyle is gaining popularity outside of Spain with small plates of savoury and delicious food being shared with friends over great wine and conversation. You'll be perfectly capable of hosting a tapas party after this class – complete with their authentic recipe for sangria. Learn how tapas differentiate themselves across Spain, from the inventive gastronomical innovation of San Sebastián to the rustic street food of Barcelona to the beach-inspired treats of Costa del Sol, by rolling up your sleeves and making them yourself!
Wake up to Brunch
Whether gathering together with old friends, spending time with family or simply celebrating the joys of the weekend, brunch makes a fabulous occasion to try out new recipes and savour great food. Master the techniques of egg cookery and classic brunch dishes perfect for incorporating your own signature flair, plus learn entertaining tips and tricks that make hosting brunch a breeze!
What Mermaids Know
As we all balance our diets for diversity, fish is one protein that consistently intimidates even the most experienced of home cooks. In this technique-driven class, you'll master the basics of fish cookery: sear, bake, shallow poach, deep poach, curing and ceviche. When you finish this class, you will know how to purchase and store fish, and cook or prepare it in a diverse number of ways. This class also shares the passion and practices in the worldwide chef community for sustainable fishing and responsible aquaculture.
Dress Code
Recommended onboard clothing is resort or country club-casual. For evening dining, elegant casual resort wear is suggested. We request that casual jeans, shorts, T-shirts or tennis shoes not be worn at dinner.
Special Dietary Requirements
Special arrangements can be made if you require diabetic, gluten-free, lactose-free, kosher, vegetarian and vegan meals. Other diets must be requested for approval and, in some cases, may require additional medical documentation.
Age Restrictions
The sale and consumption of alcoholic beverages is limited to guests aged 21 years or older. Oceania Cruises reserves the right to prohibit and retain all alcohol bought ashore for consumption onboard the vessel.
Although children and teenagers are welcome onboard, there are no specially designed amenities and facilities. Families travelling with Oceania should be aware that the on-board experience is focused around providing adults with a relaxing and sophisticated cruise.
Disabled Facilities
There are 6 wheelchair accessible staterooms available onboard. For details on a prearranged rental program of wheelchairs or motorised devices, please contact Oceania's authorised vendor:
Special Needs at Sea: Phone (toll-free) 800-513-4515 or 954-585-0575, Fax 954-585-577, www.specialneedsatsea.comg.
Other Details
Adults Only: No kids
Childrens Facilities: None
Nursery: None
Smoking: Some
Celebrity Ties: Jacques Pepin
Gratuities: Oceania Cruises advise how much you choose to tip is a personal matter and completely at your discretion and for your convenience, the following gratuities are automatically added to your shipboard account:
For guests occupying staterooms, gratuities of $16.00 per guest, per day will be added.
For guests occupying Penthouse, Oceania, Vista or Owner's Suites where Butler Service is provided, gratuities of $23.00 per guest, per day will be added.
In addition, an 18% service gratuity is automatically added to all beverage purchases, spa services and dinner at La Reserve. Naturally, guests may adjust gratuities while on board the vessel at their sole discretion.
Twitter: http://twitter.com/OceaniaCruises
Facebook: http://facebook.com/OceaniaCruises