launched 2020
tonnage 143,700
length 330 m
crew 1,346
capacity 3,660
Enchanted Princess℠, the fifth in line of our Royal-class ships, shares all of their spectacular style and luxury, and introduces new attractions all her own.
accommodation
deck plans
dining
entertainment
health & fitness
enrichment
useful
misc.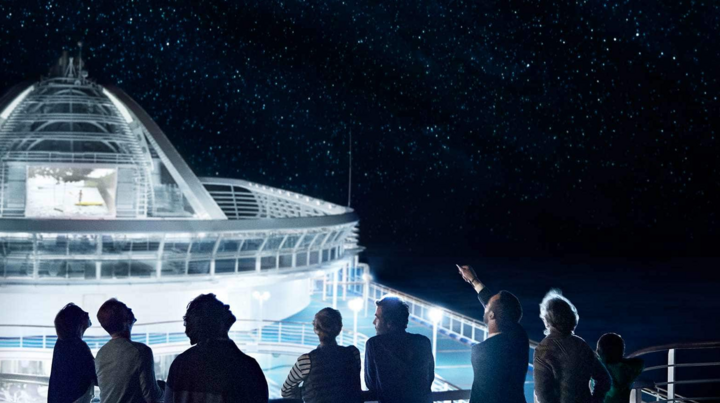 Discovery at SEA Programs
Our exclusive partnership with Discovery™ lets you come back captivated with Stargazing on our top deck; activities featuring Discovery™ hit shows such as Shark Week and Finding Bigfoot; plus our new Encounters with Discovery at SEA speaker series. Get more out of your travels with shore excursions recommended by two of the most trusted names in world travel—Discovery™ and Animal Planet™.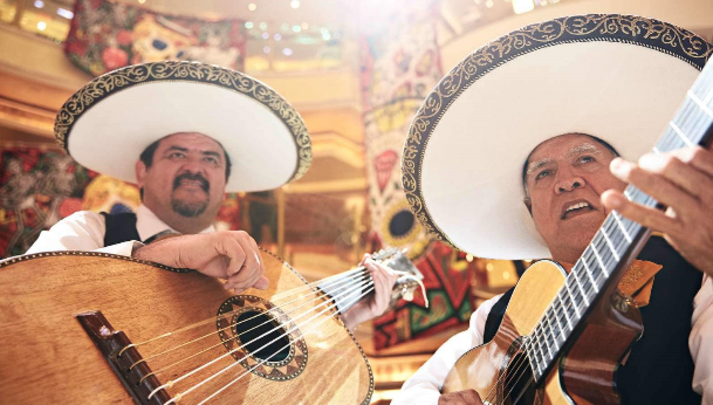 Festivals of the World
There's nothing like a Princess party to bring people together. Our Festivals of the World hosts onboard events that celebrate timeless traditions from nearly every corner of the globe.* Parties and dancing, lively music and folkloric performances, enriching activities, themed movies and specialty shopping are just some of the ways our Festivals of the World come to life! From Oktoberfest to Rio's Carnival, Festivals of the World is a gala event you won't want to miss.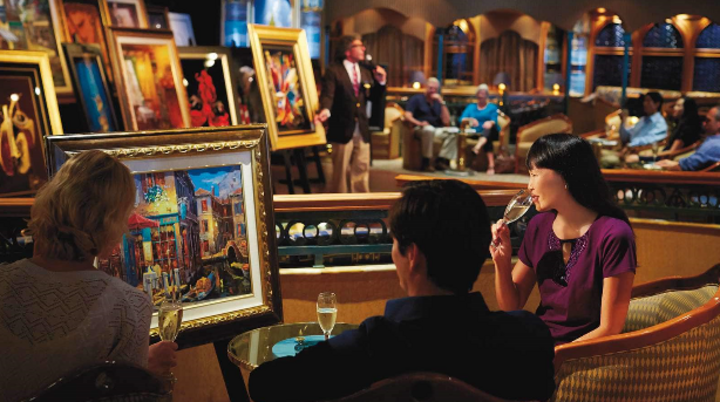 Art Gallery & Auctions
Art Lovers Rejoice—Enjoy Exquisite Art Aboard
Great art, like the destinations we visit, can be awe-inspiring. Peruse our extensive art gallery, or attend an art history lecture highlighting some of the world's greatest masters. And don't miss our exciting Champagne Art Auctions, which give you the chance to view and bid on a wide range of fine art, including pieces by famous artists like Thomas Kinkade, Peter Max, and Michael Godard. There is no charge to attend these lively events.
Disabled Facilities
Princess has long placed a high priority on making cruise vacations accessible for all guests, including those with special needs. The company initiated its award-winning Princess AccessSM program in 1992 to raise the standards of cruise ship accessibility across the fleet, while keeping in mind the constraints and special considerations inherent to a ship at sea. Even before this time, however, Princess' well-recognized guest service extended to accessible cruising. In 1984, Royal Princess debuted as the line's first ship designed with facilities specifically for guests with physical disabilities and between 1989 and 1992, three more ships debuted with accessible staterooms.
Today, the Princess fleet offers more than 350 wheelchair-accessible cabins. Each vessel features up to 31 accessible cabins, across a variety of stateroom categories. These rooms are designed for wheelchair maneuverability, with widened doorways into both the cabin and its bathroom; wheel-in showers, hand-held showerheads and bath distress alarms; as well as lowered closet railings, sinks, and handrails; and removed or revamped thresholds. Additional equipment is also available on request, such as toilet seat raisers, shower stools and bedboards.
Wheelchair users will find access-friendly design across most of the Princess fleet, making it easy to enjoy each vessel's restaurants, theaters, spas, lounges and open deck space. Elevators have generous 36- to 42-inch doorways, and wheelchair seating is available in show lounges and other public spaces.
On shore, Princess continues to innovate accessibility for guests. Special gangway mechanisms on most ships simplify embarkation and disembarkation for wheelchair guests in many world-wide ports. While onshore facilities and levels of access vary, Princess has made efforts to expand accessible offerings by working with local service providers. In St. Thomas, for example, Princess was instrumental in developing tours featuring the island's only accessible trolley. The line's own private beach call in the Bahamas, Princess Cays, features ramps for easier access. Guests will find guidelines in Princess' shore excursion listings to indicate the level of access for each tour.
Special Dietary Requirements
Princess Cruises are happy to meet your request for low-sodium, low-fat, low-sugar and vegetarian diets. Kosher meals and baby food are available upon advance written request. Any other special diet requests must be authorised in advance by the Princess corporate office.
You or your travel agent must advise Princess in writing of any special diet, allergies or medical needs. Requests must be received no later than 35 days prior to departure for cruises to Alaska, Canada/New England, Caribbean, Hawaii, Mexico, Panama Canal and Coastal Getaways. For all other cruises, requests must be received no later than 65 days prior to departure. Once onboard, please check with the Maitre D' to confirm your request.
Age Restrictions
The legal drinking age of 21 years is always observed onboard all ships, 18 years on Grand Princess Mediterranean itineraries, and proof of age may be required. All onboard staff are trained to take their responsibility to not serve alcohol to underage passengers seriously. The age restrictions are clearly posted in the bars.
Entry into the disco is limited to passengers 18 years and older. Be sure to check with the child and teen centres, however, for special disco events designed just for kids. Children under the age of 18 are welcome in the gymnasium, spa and jacuzzi; and also in the evening entertainment show lounges when accompanied by a parent or guardian.
In line with domestic age limits, as well as Princess' company policy, the casino is reserved for passengers 21 years and older. Additionally, only those passengers 21 years and older will be allowed to purchase or consume alcohol. For those whose age is questionable, picture identification may be requested.
E-cigarette & Smoking Policies
Keeping the comfort of our guests a priority, and in consideration of consumer studies which show smokers are a small minority of guests, Princess has implemented the following smoking policy:
Designated Smoking Areas
Clearly marked "Designated Smoking Areas" are available onboard and include a sufficient number of ashtrays that are emptied regularly. Generally, these areas include cigar lounges, a section of the nightclub, as well as a portion of the open decks. The Casino and Casino Bar are non-smoking areas on board, with the exception of designated slot machines where guests are permitted to smoke only while playing at those machines. All table games are non-smoking. The Casino will also have one or more non-smoking nights (6 pm to closing), depending on length of voyage. Show lounges, dining rooms and all food services areas on board all Princess ships are non-smoking. As a safety precaution, guests are reminded to properly dispose of cigarettes, cigars and pipe tobacco, which are never to be thrown overboard as this may be sucked back into the ship and cause fires.
Stateroom Smoking Policy
Princess Cruises prohibits smoking in guest staterooms and balconies. This reflects the preferences of a vast majority of our guests who value having their primary living space (both stateroom and balcony) smoke-free. As balconies are a hallmark of Princess Cruises, we believe it is important to keep this peaceful space clear of smoke. Violations to this policy will result in a $250 fine for each occurrence, which will be charged to the guest's stateroom account. Keeping with the global trend toward more restrictive smoking policies and honoring the wishes of our guests, we feel this enhances our onboard experience.
Electronic Cigarettes
The use of electronic cigarettes is allowed within the confines of the guest's stateroom (balcony not included) and within designated smoking areas only.
Other Details
Adults Only: Kids allowed
Childrens Facilities: Available
Nursery: Nursery
Smoking: Some
Gratuities: A discretionary gratuity of $12 per person for mini-suites and suites, and $11.50 per passenger in all other staterooms per day (including children) will be automatically added to your shipboard account on a daily basis. A 15% gratuity is added
Twitter: http://twitter.com/PrincessCruises
Facebook: http://facebook.com/PrincessCruises