launched 2024
tonnage 113,000
length 323 m
crew 1,050
capacity 2,560
Due to grace the seas in early 2024, Cunard's 249th ship extends the Line for future generations. Queen Anne will make up a remarkable quartet alongside Queen Mary 2, Queen Victoria, and Queen Elizabeth.
The name 'Queen Anne' celebrates Cunard's rich heritage, royal history, and refined status – joining a luxury contemporary fleet now honouring the names of each Queen Regnant over the last millennium.

Their close relationship with the British monarchy is a key part of their heritage, and they pride themselves on a history that is closely interwoven with that of the nation. A fitting name for the fourth in a fleet of prestigious queens, Queen Anne was chosen because of the monarch's many merits.
Reigning between the years of 1702 and 1714, in just twelve short years Queen Anne achieved a great deal, including the unification of Great Britain and pushing forward the boundaries of arts and education, enabling great progress and change. An often overlooked and even mistreated sovereign, Queen Anne was indeed an accomplished and dedicated woman. Well-loved by the people, she was an example of true grace and refinement. Two qualities that are emulated by her namesake, their fourth ship.
On board Queen Anne, Cunard's newly designed much-loved signature spaces from across the fleet return, and she also introduces new experiences across dining, culture, and entertainment. Guests will feel inspired by the blend of old and new. Together with a team of World-renowned designers, they have created a ship designed with distinction, and reimagined the voyage experience.
For over 180 years Cunard have set the bar, and then raised it, continually refining the definitive experience of ocean travel. From this spirit comes the finest ship of its era. A ship inspired by their past and built for their future. They look forward to welcoming guests on board Queen Anne.
Dining
Dining on board Queen Anne is sure to be one of travel's biggest pleasures. With more choice of cuisines and dining styles than ever before on Cunard, take your pick from numerous venues, including everything from light bites and the signature Afternoon Tea, to the ultimate in fine dining.
Queen Anne will offer guests an exemplary main dining restaurant corresponding to their accommodation category. Each of these will serve breakfast, lunch, and dinner, and boast menus that showcase the finest, authentic ingredients from all over the world.
In addition to Cunard's much-loved signature venues, Queen Anne will offer an array of alternative dining options. These will include the popular Golden Lion, where you'll find a generous menu of pub classics, and al fresco dining where you can enjoy the perfect view.
You'll also find everything from Mediterranean, Indian, Tapas, or Pan Asian, to an indulgent steak and perfectly paired wine. Whatever cuisine you desire, whenever you'd like to dine, every taste will be catered for.
Accommodation
With luxurious flourishes enhanced by stylish décor, every day on Queen Anne offers a chance to sail the world in unparalleled comfort. Rest easy, safe in the knowledge that the finer details have been taken care of.
From a welcome drink to help ease you into your voyage, to sumptuous cotton sheets, soft bathrobes, and a nightly turndown service, you'll find signature touches in each suite or stateroom ready to usher you into a world of indulgence and relaxation. Take a closer look below at what you can expect on board Queen Anne.
Britannia Staterooms.
With inside, oceanview, and balcony staterooms to choose from, the Britannia Staterooms are a haven of comfort and style to enjoy during your voyage.
Britannia Club Staterooms.
Take advantage of prime sea views from your own private, outdoor space. These staterooms bring together the best in comfort, convenience, views, and extra touches.
Princess Grill Suites.
Impeccable design paired with additional private space, each Princess Grill Suite brings the best in luxury, comfort, views, and entertainment space.
Queens Grill Suites.
Retreat to an exclusive world of luxury with your own private residence at sea. Each spacious suite epitomises the ultimate in refined accommodation.
accommodation
deck plans
dining
entertainment
health & fitness
useful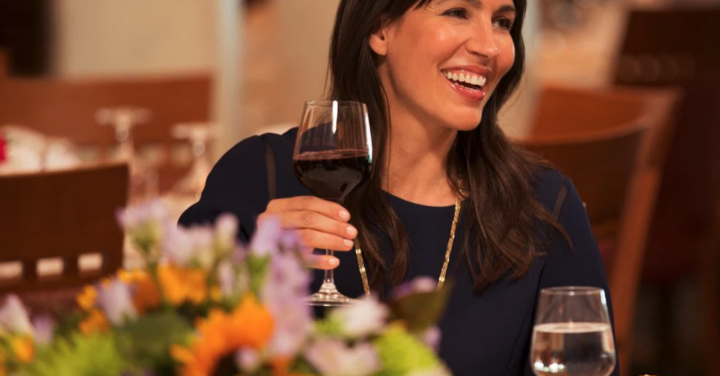 Main Dining
While our mouthwatering menus change, our exceptional culinary standards remain the same.
Your table is reserved for breakfast, lunch and dinner in one of the sophisticated main restaurants aboard. Each is the home of deliciously imaginative menus, exceptional wines and impeccable service. This evening you may start with such delicacies as Salmon Gravlax with Poached Quail's Egg or a Croquette of Suckling Pig. For your entrée, you might be in the mood for Dover Sole Meunière or a Chateaubriand, perhaps rounded off with a rich Bitter Chocolate Soufflé or a lighter Mango Panna Cotta.
Traditional Afternoon Tea
You can devote an indulgent hour each and every day to our signature Afternoon Tea.
If anything perfectly encapsulates Cunard's service and sense of occasion, it is our prized daily ritual: Afternoon Tea, served by white-gloved waiters from 3.30 to 4.30pm every day in the Queens Room. Indulgent finger sandwiches, scones and pastries accompany Twinings fine leaf teas, as the orchestra provides a melodic backdrop. Our Grills guests may also retreat to the more intimate Princess Grill restaurant, while a more casual interpretation awaits in the Lido or King's Court.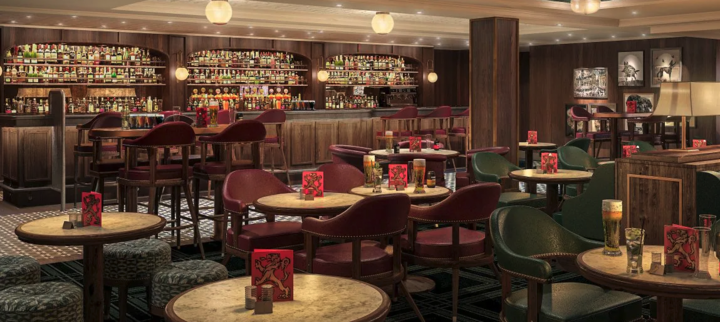 Alternative dining on Queen Anne
Indulge in expertly curated cuisine at one of Queen Anne's alternative restaurants.
For an extra special evening, instead of dining at your main restaurant consider booking a table at one of the alternative options on board. From Mediterranean flavours and tastes of Pan-Asian, to a flagship steakhouse and grill, Queen Anne offers an exciting array of cuisines to cater to the tastebuds of all guests. In every restaurant find the impeccable White Star Service that Cunard is known for, a warm and welcoming ambience, and choose dishes from menus that feature the finest ingredients from around the globe.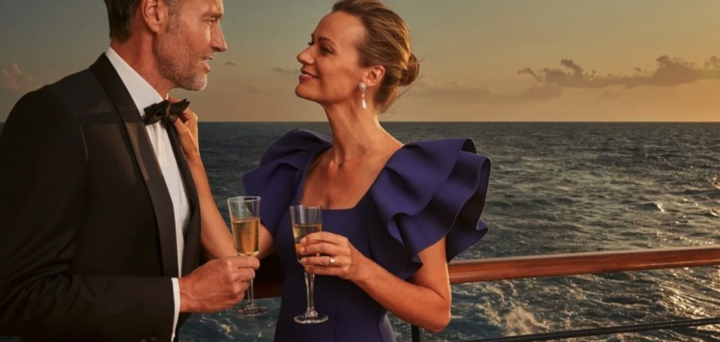 Gala Evenings
An invitation to dress in your finest black tie for a spectacular evening of music and celebration.
The true romance of ocean travel is never more alive than on our Gala Evenings. You'll feel a palpable sense of occasion in the air as guests emerge from their staterooms in their finest eveningwear, beautifully attired in tuxedos and ball gowns, like a scene from a Hollywood movie.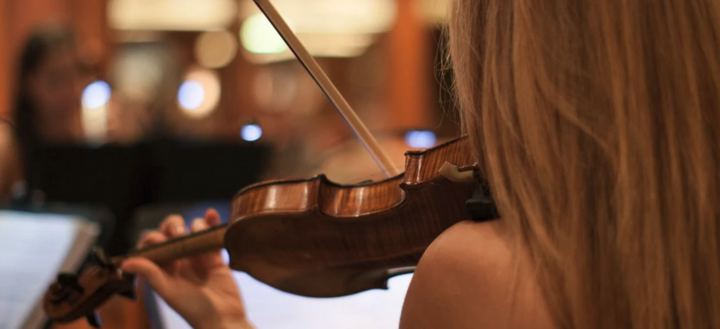 Live Music
Every Cunard experience plays out to a backdrop of fabulous live music on board.
Live music will be an unmistakable signature of every moment on your ship. Our accomplished resident musicians will create an enticing ambience, during relaxing moments and on grand social occasions. The string trio provides a warm welcome on board and melodic accompaniment to Afternoon Tea. The resident pianist sets an elegant tone to evening dinner drinks in the Commodore Club, and you'll also find harpists and contemporary bands in public rooms and lounges throughout the ship.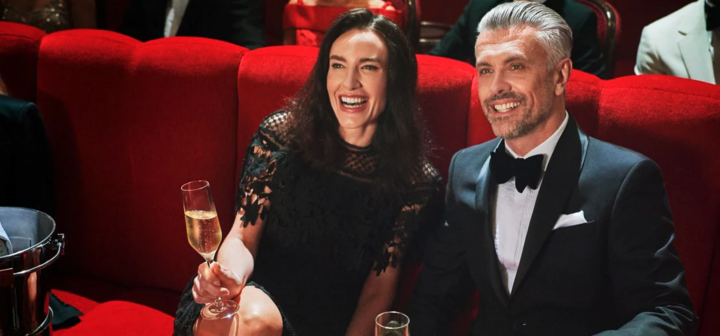 Evening Performances
When evening falls, the curtain rises. Our cast of talented performers is ready to delight you.
Every evening during your cruise promises a stellar array of entertainment choices. So, whether you're in the mood for music, dance performances or even magic shows, prepare to settle into your seat. Watch the resident Royal Cunard Singers & Dancers stage dazzling West End style productions or abridged Shakespeare performances. We've also hand-picked a talented line-up of vocalists and instrumentalists, aerial performers and illusionists, stand-up comedians and variety entertainers.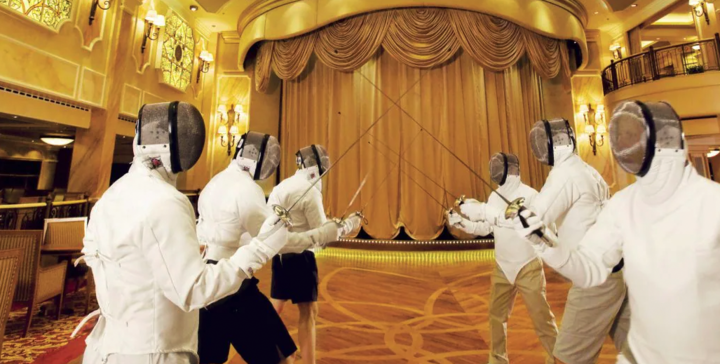 Sporting Activities
Sports enthusiasts will feel right at home on our ships, whether taking part or just watching.
There are many ways to keep yourself active on our ships. A few laps of the Promenade Deck and the games of shuffleboard and deck quoits have been pastimes for almost as long as we have been sailing. You'll find pursuits like table tennis, paddle tennis, golf putting and swimming too. For armchair sports fans, Sport24 offers coverage of major events including the Premier League, Wimbledon, Formula 1, the Ryder Cup and more, shown in certain bars and lounges, and all staterooms and suites.
Special Dietary Requirements
The ship can cater for the following dietary requirements on request: vegetarian, low /no fat low salt /no salt, lactose intolerant , dairy free, gluten free, wheat free, low cholesterol, diabetic, kosher and vegan. Passengers requiring any of the above diets should notify the Customer Contact Centre prior to sailing.
Dress Code
During the day casual shirts, shorts, trousers and beachwear are ideal. The main restaurants require a casual dress code for breakfast and lunch, however you may wear shorts in either the Kings Court (Queen Mary 2) or Lido Restaurant (Queen Victoria & Queen Elizabeth).
Evenings are split into two different dress codes. As a guide, these are: Formal evening wear consisting of an evening or cocktail dress or smart trouser suit for ladies, a tuxedo, dinner jacket or dark suit for men. Passengers may wear formal national dress or military uniform if they wish.
Informal evenings would consist of a required jacket and optional tie for gentlemen, whilst ladies should wear cocktail dresses, stylish separates or equivalent.
Disabled Facilities
Fully accessible adapted cabins are available onboard the ship and some suites are also suitable for wheelchair users as the cabin door is wider and the bathroom offers a larger floor space. Assisted embarkation and disembarkation is available at some ports.
Passengers who have a disability which might mean that they require additional assistance, in particular in an emergency situation, must inform the Customer Contact Centre at the time of booking.
Smoking & E-cigarette Policy
For the safety, comfort and enjoyment of our guests, smoking (including Electronic alternatives) is not permitted in staterooms, on stateroom balconies or in public rooms. You will find designated areas of the open deck on each ship where smoking is permitted, these will be clearly signposted on board and listed in the Daily Programme.
The only exception to this is Churchill's Cigar Lounge, which is reserved for cigar and pipe smokers.
This policy is designed through direct feedback from our guests and is for the safety and comfort of all guests. This means that all will be able to enjoy the use of all areas of the ship and their private balconies without the effect of drifting smoke.
Age Restrictions
Children older than six months may travel, however Transatlantic crossings have a minimum age requirement of 12 months. Guests under 16 years of age must be accompanied in the stateroom by a guest who is 16 years of age or older.
As with UK laws, the age limit for purchase and consumption of alcohol on board is 18 years of age, however, when in US waters, the age limit increases to 21.