launched 2022
tonnage 169,400
length 323 m
crew 1,648
capacity 5,877
An immersive experience truly connecting you to the sea awaits you onboard MSC Seascape, the glamorous sister ship of the innovative MSC Seashore.
Your cruise experience is at the centre of everything we do. To help make your holiday with us truly memorable, we give you the chance to tailor your experience to your needs and desires. For example, you can either leave the choice of cabin to us and benefit from the best rates available, or choose your own ideal cabin and location, while enjoying extra flexibility and additional benefits to make your cruise even more special.
Bella Experience
Fantastica Experience
Aurea Experience
MSC Yacht Club Experience
accommodation
deck plans
dining
entertainment
health & fitness
enrichment
useful
misc.
MSC Aurea Spa
Offering a wide selection of Balinese massages and other wellness and beauty treatments to revitalise body and soul, the lavish MSC Aurea Spa on MSC Seashore is a haven for relaxation and pampering, complete with a thermal area, beauty salon and nail boutique while the Saloon and barber are completely redesigned.
Disabled Facilities & Special Needs
Cabin Facilities
Accessible cabins, fitted out especially for guests with disabilities and/or reduced mobility, are available on every ship in the fleet. Guests requiring an accessible cabin can request it at the time of booking.
The accessible cabins are larger and offer more space for movement than regular cabins, and come with extra facilities and equipment to meet special needs.
Reduced Mobility
All decks, public areas and tenders are designed to be as accessible as possible for guests with reduced mobility. There might be ports or tender services you may not access with a mobility device as we cannot lift it. In addition, there are varying numbers of specially fitted-out cabins available on each ship in the fleet. For safety reasons, guests requiring assistance may be requested to travel with a carer, depending on the specific route.
Wheelchairs are available on board our ships, for the use of guests during embarkation and disembarkation only, or in case of emergency. Guests that require constant use of a wheelchair or any other form of support must bring their own equipment with them. It is the responsibility of the guest to check with the relevant producers/suppliers that this equipment is safe to take on board and use on a cruise ship, and to organise both its delivery to the departure terminal in good time for embarkation, and its collection at the end of the cruise.
For detailed information on the ports of call and excursions suitable for passengers who experience mobility problems, read the relevant pages in this section, and once on board check the accuracy of the information provided.
Hearing Impairments
For safety reasons, guests with hearing disabilities must travel with a carer. Passengers with partial hearing disabilities can travel alone, only if they request the installation of a TDD System kit in their cabin. This kit, available in limited numbers on all ships, includes light and vibrating devices, a text phone and an analogue alarm clock.
Furthermore, wireless amplifiers and indicator lights are available in the theatre and other rooms. Indicator lights are also available in the lifts.
Children with Special Needs
Children with special needs have normal access to all on-board services and facilities. Although the entertainment staff do not offer a childcare service, they are trained to provide a wide range of entertainment aimed specifically at children.
All children, including those with special needs, are assigned to a certain entertainment area depending on their age. If necessary, children or young people with special needs can be placed with a lower age group (with the agreement of their parents), or they can take part in specific activities, together with their parents if required.
Special Dietary Requirements
Guests with food intolerances and/or allergies are asked to inform MSC Cruises of their requirements through the Special Needs Form, and, once on board, to confirm their needs at the Reception – Guest Service and/or with the Maître d'Hôtel. If informed in advance, on-board staff will be happy to assist guests in choosing dishes that do not contain foods or ingredients that could cause an allergic reaction.
MSC Cruises has obtained a certification from Bureau Veritas to provide gluten-free menus worldwide (food code: < 20 ppm*) in the main restaurants of MSC Seaside, MSC Seaview, MSC Meraviglia, MSC Preziosa, MSC Divina, MSC Splendida, MSC Fantasia, MSC Magnifica, MSC Poesia, MSC Orchestra and MSC Musica. All gluten-free recipes are prepared by skilled personnel in dedicated kitchens on board, using products stored in special areas in accordance with the "Cruises Project" of the Associazione Italiana Celiachia (Italian Coeliac Association) with which MSC works closely for the above ships, cruising in the Mediterranean and in Northern Europe. On MSC Armonia, MSC Sinfonia, MSC Opera and MSC Lirica guests can find only pre-packaged gluten-free snacks such as, biscuits, croissants, sponge cakes and muffins.
Once MSC Grandiosa and MSC Bellissima are launched, we will complete the certification process with Bureau Veritas that will allow us to offer gluten-free menus on these ships as well. The process is expected to be completed within 1 month after the launch of the ships, so please check availability of gluten-free menus at time of booking.
For any other requirements not expressly mentioned in this section, please get in touch with your travel agent.
*MSC gluten free menus are suitable for gluten intolerance, but not in case of gluten allergy.
*MSC gluten free menus are suitable for gluten intolerance, but not in case of gluten allergy.
Pregnancy
The medical facilities and equipment on board may not be technically adequate to deal with a birth or pregnancy complications. Therefore, for safety reasons, we cannot admit women on board who will have reached or exceeded their twenty-fourth week of pregnancy by the end of the cruise. Regardless of the stage of pregnancy, a doctor should be consulted before setting off on a cruise to evaluate whether the guest is fit to travel.
Dress Code
Casual wear is advised is advised for life onboard and shore excursions. For informal evenings, summery dresses for women and a lightweight jacket for men are recommended. For Gala evenings and Parties, slightly more formal dress is advised. For any formal evenings, cocktail dresses for ladies, and a lightweight suit or dinner jacket for the gentlemen onboard.
MSC Cruises advise bringing a jumper or shawl in your luggage to be prepared for changes in temperature in-between the air conditioned interior of the ship and the deck areas.
For visits to religious sites, appropriate clothing is recommended∘. This means covering knees, shoulders, and no low-cut tops.
Smoking Policy
In line with global standards, smoking areas on board are fewer than non-smoking areas and are indicated by signage and ashtrays.
Smoking (including e-cigarettes) is not permitted in cabins, on cabin balconies and anywhere not expressly indicated by signage and ashtrays.
The Company reserves the right to levy a fee should passengers be found smoking in non-designated areas of the vessel. Repeatedly smoking in non-smoking areas can ultimately lead to disembarkation.
We remind you that throwing cigarette butts or anything else overboard at sea is strictly prohibited as it may seriously put in danger safety at sea.
Medical Facilities
All MSC cruise ships have a well-equipped Medical Centre, supervised by a ship's doctor and other medical personnel. The Medical Centre is open at the times advertised in the ship's Daily Programme. Emergency services are available round the clock by calling the Medical Emergency number. Excluding emergencies, medical services carry a fee and prices are available on board. Guests who incur medical expenses during their cruise can ask their insurance company for reimbursement once ashore.
Dialysis
Guests undergoing peritoneal dialysis treatment can travel as normal, bringing with them all medicines and equipment that may be required during the cruise. The relevant medical treatment is available through the on-board medical facilities.
Equipment and machinery for haemodialysis treatment will only be carried on board by specialized independent companies on certain routes. For further information on this service, please contact your travel agent.
Wi-Fi
Wi-Fi is available on board all of our ships.
Service Animals
Suitably trained and certified guide dogs are allowed on board all ships, assuming that they are in a good state of health and possess all necessary documents for entering the foreign countries visited during the cruise.
The guest will be informed in advance about the accommodation made for the animal, the facilities available (if required) and the embarking and disembarking procedure.
The guest is personally responsible (with the aid of the carer if applicable) for the custody, feeding and general care of the animal during the whole stay on board.
Onboard Language
The company uses six main languages for its communications: English, Italian, German, French, Spanish and Brazilian Portuguese. The order in which these languages appear is determined exclusively by the number of guests in each language group as a proportion of our total guests. The cabin information booklet and other printed material used on board are available in different versions for each of the six languages listed above. The order of the languages used in our menus changes depending on the area of the world in which each ship is located.
Charting a Sustainable Future
For us sustainability means protecting the environment, supporting the people who work with us and choose to travel with us, as well as the communities and places that we visit and do business with.
Our sustainability programme is organised around four key pillars: Planet, People, Place and Procurement. This translates into a drive to continuously improve our fleet's environmental performance; caring for all employees and promoting diversity and inclusion; working to ensure that our impact on the coastal communities that we reach remains positive; and responsibly sourcing the products and services that we purchase.
Sustainability it also means putting the safety of our crew and guests at the center of everything. In 2020, due to the extraordinary circumstances caused by the Covid-19 pandemic we had to halt all our operations and repatriate thousands of guests and crew home in a matter of days. Furthermore we had to secure our business, adapt our operations and prepare for a safe return of guests thanks to an industry-leading Health & Safety protocol.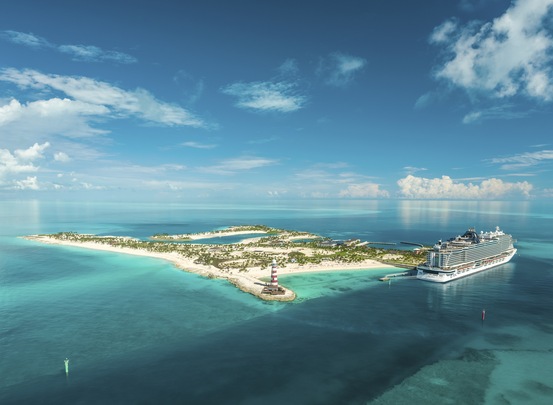 Environmental Stewardship
MSC Seashore features some of the most advanced environmental technologies currently available. Thanks to this, the vessel has received the 'Sustainable Ship' notation from the classification society RINA.
Air emissions
• 98% reduction of sulphur oxide (SOx) and 90% reduction of nitrogen oxide (NOx) emissions thanks to the most advanced technologies.
Energy efficiency
• Wide range of energy-saving equipment to maximise efficiency such as smart heating, ventilation and air conditioning.
Wastewater & Protecting Marine Life
• Advanced wastewater treatment system with higher purification standards than most wastewater treatment facilities ashore.
Discover more on how the MSC Group is actively contributing to impactful environmental conservation and humanitarian programs at the MSC Foundation Centre on board.
Other Details
Adults Only: Kids allowed
Childrens Facilities: Available
Nursery: Nursery
Smoking: Some
Gratuities: SERVICE CHARGES / GRATUITIES Service Charge / Gratuities are included in the cruise fare∘. Tips MSC Cruises does not recommend tipping individual members of staff. Bar Service Charge A 15% Bar Service Charge is automatically added to all purchases.