At Southampton Cruise Centre, we've always believed that your holidays should be effortless from the start.  The good news is that luxury brand Celebrity Cruises have announced a new approach to cruising called 'Always IncludedSM.'
From Tuesday 17 November, every Celebrity Cruises holiday will include WiFI, Drinks and Tips.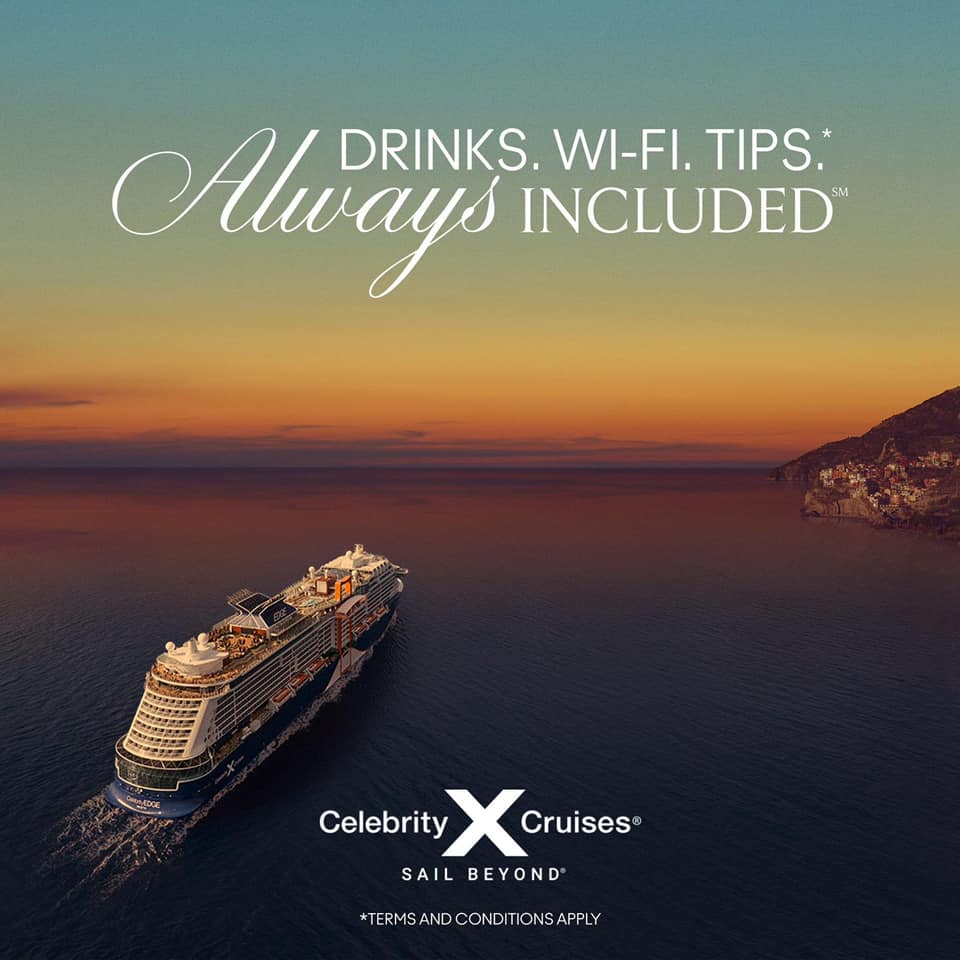 "Always Included" becomes the new standard rate for the luxurious experience offered by Celebrity Cruises and includes:
Unlimited Drinks – Classic cocktails, wines by the glass, beer, soft drinks, specialty coffees and teas, juices and bottled water can all be fully enjoyed without worrying about running up a bill!
Unlimited WiFi – Free, always-on connection to social media, email and the web, allows you to surf the net to their heart's desire or post your cruising pics to social media making your family and friends jealous!
Daily Gratuities – Tips are taken care of as standard, allowing you to relax and enjoy the warm service delivered by the exceptional crew, knowing that the crew behind the superior service are also being taken care of.
And for guests who want to enjoy even more luxurious simplicity, Celebrity Cruises are offering the option to upgrade to one of two packages:
ELEVATE takes the package to new heights with unlimited premium drinks and adds shore excursions up to $200 per person.
INDULGE includes everything in the ELEVATE package and adds to it with unlimited streaming Wi-Fi and up to $200 per person in onboard credit to spend almost any way desired.
Celebrity Cruises are offering an unparalleled holiday concept for All guests in The Retreat. This features stunning all-suite accommodations and all-exclusive experiences including a private restaurant, lounge and sundeck, and a dedicated team of butlers and concierge staff – will receive the same amenities as the INDULGE package at no additional charge.
"Always Included" is the latest in a series of innovations available Celebrity Cruises ships, including the recent transformation of the traditional cruise industry safety drill into a more personal digital experience, called eMuster, that can be accessed by guests from any smart device or on a stateroom TV and completed at the guest's leisure prior to the ship's departure.
"Always Included" is available for all new bookings on any of Celebrity's cruise offerings, excluding Galapagos sailings. As part of our new approach, we've also re-invented our loyalty program to offer Captain's Club members new perks and special onboard experiences.
"Always Included" launches on 17 November 2020