Home »
Fred Olsen Cruises from Southampton in 2019, 2020 & 2021
Fred Olsen Cruises from Southampton in 2019, 2020 & 2021
Fred Olsen Cruise Lines offer a number of cruises from Southampton in 2019, 2020 & 2021 to destinations throughout the world.
Fred Olsen is our favourite "Small Ship" cruise line. Yes, her fleet is slightly older than some of the more modern cruise ships, but that is what makes Fred Olsen so special to our clients. The Olsen family's sailing experiences go back over 150 years – and that shows in everything they do.
Their ships have all the facilities you would want, but are small enough so you always feel comfortable and at home. Fred. Olsen's crew are consistently praised by Cruise Village clients and Fred Olsen's family managed business works hard to make your trip special.
So what are you waiting for? Hop onboard Balmoral, Braemar, Black Watch or Boudicca for a cruise of a lifetime.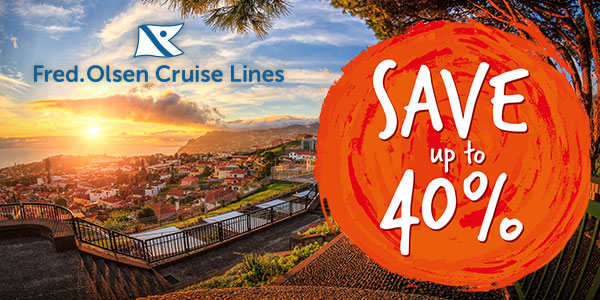 Fred. Olsen's Warmer Cruising
Enjoy a special saving of up to 40% when you book your next cruise now from a selection of autumn and winter escapes departing between October 2019 and March 2020, with Fred. Olsen's Warmer Cruising offers.
There are many sailings to choose from, and whichever region you explore, your smaller ship will take you closer to unforgettable highlights and experiences. From the UK, you can sail south to soak up the diverse cultures of the Mediterranean or be part of Fred's "Four Fred.s in Funchal" celebrations; go in search of the magical Northern Lights; or even embark on a relaxing city break.
With such a diverse selection of itineraries, and prices from just £349pp for a five-night cruise, you're sure tyo find the perfect getaway below - with fantastic savings available if you book by 15th October 2019!
*Some exclusions apply, due to capacity, see terms & conditions.
You can view all of Fred Olsen's Cruises from Southampton and Dover in the list below. If you would like to view the itinerary and latest fares click the blue 'View Details' button. If you would like more information and the latest availability click on the red 'Enquire Now' button. Alternatively you can call and speak to a member of our dedicated cruise team on 02380 658 386.

Fred Olsen Cruise Lines
Braemar
22nd Oct 2019 - 8 Nights
Into The Heart of Spain & Bordeaux
Book by 15th October 2019 and enjoy a special saving of up to 40%
Inside
£599
Outside
£749
Balcony
£1499
Suite
£1999
Fred Olsen Cruise Lines
Balmoral
24th Oct 2019 - 15 Nights
Spanish Cities
Book by 15th October 2019 and enjoy a special saving of up to 40%
Inside
£999
Outside
£1199
Balcony
£2999
Suite
£3199
Fred Olsen Cruise Lines
Braemar
30th Oct 2019 - 13 Nights
Canary Islands & Madeira
Book by 15th October 2019 and enjoy a special saving of up to 40%
Inside
£999
Outside
£1249
Balcony
£2599
Suite
£3149
Fred Olsen Cruise Lines
Balmoral
15th Nov 2019 - 14 Nights
Canary Islands
Book by 15th October 2019 and enjoy a special saving of up to 40%
Inside
£999
Outside
£1299
Balcony
£2399
Suite
£2499
Fred Olsen Cruise Lines
Braemar
24th Nov 2019 - 9 Nights
City Overnights
Book by 15th October 2019 and enjoy a special saving of up to 40%
Inside
£539
Outside
£699
Balcony
£1349
Suite
£1799
Fred Olsen Cruise Lines
Balmoral
29th Nov 2019 - 9 Nights
Christmas Markets
Book by 15th October 2019 and enjoy a special saving of up to 40%
Inside
£599
Outside
£699
Balcony
£1449
Suite
£1499
Fred Olsen Cruise Lines
Braemar
3rd Dec 2019 - 16 Nights
Trans-Atlantic To The Caribbean
Book by 15th October 2019 and enjoy a special saving of up to 40%
Inside
£949
Outside
£1099
Balcony
£CALL
Suite
£2299
Fred Olsen Cruise Lines
Balmoral
20th Dec 2019 - 2 Nights
French Escapade
Book by 15th October 2019 and enjoy a special saving of up to 40%
Inside
£199
Outside
£249
Balcony
£349
Suite
£399
Fred Olsen Cruise Lines
Black Watch
22nd Dec 2019 - 15 Nights
Canary Christmas & New Year(Overnights)
Book by 15th October 2019 and enjoy a special saving of up to 40%
Inside
£1849
Outside
£2049
Balcony
£2999
Suite
£3099
Fred Olsen Cruise Lines
Balmoral
6th Jan 2020 - 70 Nights
South America
Book by 15th October 2019 and enjoy a special saving of up to 40%
Inside
£4799
Outside
£5999
Balcony
£14499
Suite
£15499
Fred Olsen Cruise Lines
Black Watch
6th Jan 2020 - 11 Nights
Madeira, Portugal & Spain
Book by 15th October 2019 and enjoy a special saving of up to 40%
Inside
£CALL
Outside
£949
Balcony
£1249
Suite
£1349
Fred Olsen Cruise Lines
Balmoral
6th Jan 2020 - 23 Nights
Brazilian Discovery
Book by 15th October 2019 and enjoy a special saving of up to 40%
Inside
£1749
Outside
£2199
Balcony
£CALL
Suite
£CALL
Fred Olsen Cruise Lines
Black Watch
17th Jan 2020 - 14 Nights
Canary Islands
Book by 15th October 2019 and enjoy a special saving of up to 40%
Inside
£1099
Outside
£1249
Balcony
£1749
Suite
£1899
Fred Olsen Cruise Lines
Black Watch
31st Jan 2020 - 14 Nights
Northern Norway With Sami National Day
Book by 15th October 2019 and enjoy a special saving of up to 40%
Inside
£1499
Outside
£1599
Balcony
£2549
Suite
£3449
Fred Olsen Cruise Lines
Black Watch
14th Feb 2020 - 5 Nights
City Break in the Netherlands & Belgium
Book by 15th October 2019 and enjoy a special saving of up to 40%
Inside
£599
Outside
£449
Balcony
£599
Suite
£649
Fred Olsen Cruise Lines
Black Watch
19th Feb 2020 - 13 Nights
Authentic Andalusia
Book by 15th October 2019 and enjoy a special saving of up to 40%
Inside
£999
Outside
£1099
Balcony
£1649
Suite
£1699
Fred Olsen Cruise Lines
Black Watch
3rd Mar 2020 - 14 Nights
Fred. Olsen In The Canary Islands
Book by 15th October 2019 and enjoy a special saving of up to 40%
Inside
£1199
Outside
£1299
Balcony
£1999
Suite
£2049
Fred Olsen Cruise Lines
Black Watch
17th Mar 2020 - 7 Nights
Highlights of the Low Countries
Book by 15th October 2019 and enjoy a special saving of up to 40%
Inside
£499
Outside
£599
Balcony
£979
Suite
£1049
Fred Olsen Cruise Lines
Black Watch
24th Mar 2020 - 2 Nights
Reposition
Book by 15th October 2019 and enjoy a special saving of up to 40%
Inside
£CALL
Outside
£179
Balcony
£269
Suite
£279