Homepage » P&O Cruises | Iona From Southampton
P&O Cruises - Introducing Iona in 2020
2020 will put P&O Cruises in the history books once again. In two years, they will introduce Britain's biggest cruise ship, offering guests the holiday of a lifetime on the next generation of P&O Cruises ships. At 180,000 tons, this ship will offer more choice of accommodation, more places to dine in style, more spaces to relax, more entertainment and more freedom to make your holiday your own - wherever you are in the world.

So... What can we expect?
A world of even more choice on board
• Over 15 places to eat to suit all appetites and occasions.
• 8 speciality restaurants
• More than 10 places to enjoy a drink and take in sea views.
• 18 whirlpools
• 4 swimming pools (three outside and one inside)
• More than 6 places to have breakfast
• Plenty of entertainment venues from the theatre to venues for adults only.
Iona will offer guests unprecedented levels of quality and flexibility when it comes to food and drink. The exciting array of options combines brand-new dining and drinking concepts with much-loved signature venues to give new meaning to the word 'choice'. With 29 different venues to choose from, there's something for everyone, whatever their mood, at any time of day and night.
The ultimate way to see the Norwegian fjords
Iona begins her inaugural season in this incredible region. With departures throughout the spring and summer of 2020, you'll have even more opportunities to explore one of the world's most iconic destinations. The itineraries have been carefully designed as an introduction to the region, offering something for everyone, all wrapped up in one unforgettable holiday. In each port, a collection of shore excursions will take you to the heart of Norway's astonishing natural wonders and diverse cultural attractions.
Iona's SkyDome :: bringing the outside in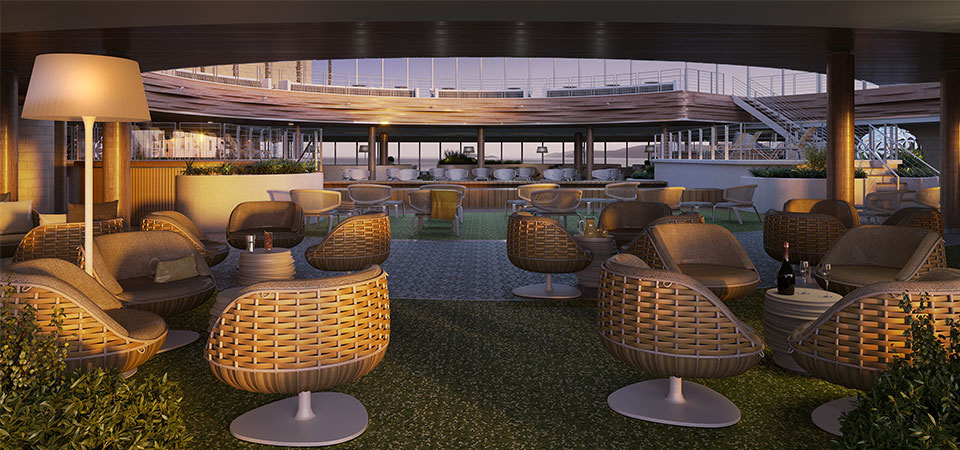 SkyDome on Iona is the place to be for relaxation, effortless dining and brilliant entertainment – day or night, whatever the weather. Ready to meet P&O Cruises new star at sea?
Iona is designed to bring the outside in. Through innovative design and unique spaces, she connects you with the sea, sky and shoreline.
Iona's SkyDome – the first of its kind in the cruise industry – is one such space. With its glass dome roof and spacious layout, it's flooded with natural light. It offers a relaxed, poolside environment by day, with tantalising dining and drinking options; come evening, the space seamlessly transitions into a must-visit entertainment venue, showcasing spectacular aerialist performances and playing host to party nights under the stars. It's a fun and welcoming space for families, offering laid-back dining, exciting entertainment, a swimming pool and room to roam.
SkyDome sits on two decks – deck 16 is where you'll find food and drink, as well as the swimming pool, whirlpools and sun loungers. Deck 17, meanwhile, is a mezzanine level offering a bar and seating area, making it perfect for relaxing during the day or watching the entertainment at night.
The glass dome roof was designed by award-winning British engineers Eckersley O'Callaghan, who are renowned for their work on such innovative structures as Bulgari Glass House in Italy and Apple Park in California. It lets the light in and creates a temperate climate while allowing for a clear view of the sky.
Underneath the dome, an informal and inviting space created by cruise ship specialists Partner Ship Design allows you to relax, dine and be entertained while you enjoy views of the sky and the ship's surroundings. Greenery and artworks create a peaceful environment in which to relax.
By day or by night, for early birds and night owls, SkyDome is the place to spend quality time at sea.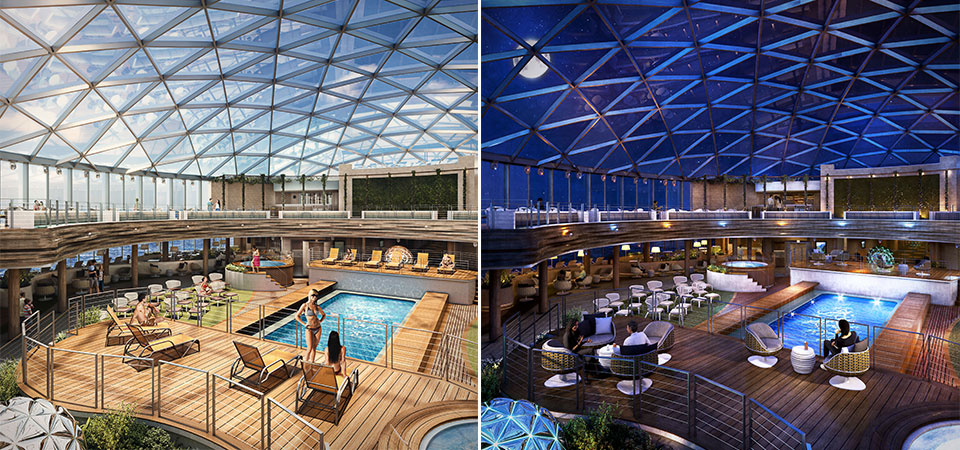 FROM DAY…
Ambience
SkyDome gets going bright and early. From 7am, you can enjoy poolside relaxation and a morning coffee. It has the feel of an English park in summer with natural shapes and textures, and features a central pool and two whirlpools with a mix of sun loungers and comfortable reclining chairs to kick back and relax. Sip a coffee with a sea view, stroll around the mezzanine level or enjoy a relaxed lunch overlooking the pool.
Food & Drink
SkyDome offers a dynamic dining concept that includes a grill, pizzeria and street food. Finish off a mouthwatering lunch with a selection of premium ice cream from Sundaes. Later in the afternoon, enjoy an early dinner with casual dining or a cheeky afternoon tipple from one of the three bars.
Entertainment
SkyDome is the place to be for relaxation and laid-back entertainment during the day. The mornings are peaceful and quiet – grab a coffee and a lounger and spend some time reclining by the swimming pool. As the day progresses, so does the entertainment. In the afternoon, you can catch a glimpse of the aerial performers rehearsing while you soak in a whirlpool, or enjoy an intimate live music performance with an afternoon cocktail in hand.
TO NIGHT…
Ambience
At night, SkyDome comes alive. The mood changes from daytime to showtime, with stunning audiovisual effects including dazzling light shows creating a dynamic ambience. The swimming pool transforms into a stage for the night's entertainment, while spectacular aerial acrobatic shows make full use of SkyDome's height. It all adds up to a feast for the senses.
Food & Drink
SkyDome continues to offer informal dining options at night, offering self-service dishes, salads, fresh pizza and regional dishes. Three bars – the Laguna, Crystal and Sky bars – will serve a bar menu of cold and hot drinks. For a sweet treat, visit Sundaes for a full selection of premium ice cream. SkyDome is also the spot for pre-dinner drinks on Gala Evenings.
Entertainment
The night's entertainment really gets going when the swimming pool transforms into a stage – a well-choreographed routine that's entertaining to watch on its own. Afterwards, relax and take in the evening entertainment, including aerialist performances. After the shows, the space transitions into a party night. DJs will play while you dance under the night sky – no matter the weather.
Chat with us, we are online!
Did you know?
The new ship is P&O Cruises' most environmentally efficient yet!
The ship will be the most environmentally efficient ship in the history of P&O Cruises. Powered at sea and in port by liquefied natural gas, exhaust emissions will be significantly reduced to help protect the environment.
The ship will have a capacity for 5,200 guests!
This makes it the largest cruise ship ever built for the British market.
P&O Cruises have partnered with the best in the business!
Some of the world's leading hospitality, interior design, maritime and architectural experts, as well as leading cruise ship designers and builders, have come together to create unrivalled experiences and levels of luxury on board.
Design innovation is being taken to new levels by collaborations with award-winning architectural and interior design teams:
• Meyer Werft (Papenburg): world-leading builder of luxury passenger ships. They have built ships for Royal Caribbean, Disney Cruise Line, Holland America Line, Norwegian Cruise Line, Celebrity Cruises and Saga.
• Jestico+Whiles (London): award-winning residential and commercial architects whose work includes Aquashard (London), the Yas Hotel (Abu Dhabi) and the W Hotel (London).
• Richmond International (London): hotel architecture and interior experts. P&O Cruises are once again joining forces with Richmond International (London), who worked on Britannia and whose luxury hotel portfolio includes The Langham Hotel (London and Chicago), The Four Seasons Moscow, and Sandy Lane Hotel (Barbados).
• Partner Ship Design (Hamburg): experienced in maritime architecture and specialists in on board guest experience and flow. Projects include AIDA, Costa, P&O Cruises and Carnival.
T&Cs: Images are for illustrative purposes only. Supplied by Richmond International. All fares shown include any promotional savings and are "from" per person based on two adults sharing the lowest grade of cabin.