Home »
MSC Cruises from Southampton
MSC Cruises from Southampton

MSC Cruises offer a number of voyages from Southampton in 2018 and 2019 to fabulous European destinations.
In 2018 you can experience MSC Magnifica, which combines the relaxed sophistication of the Musica Class with the variety and opulence of the Fantasia Class ships, boasts 5 gourmet restaurants serving food from around the world, 12 bars and 5 different Kids and Teens clubs with their own themed venues. In addition the award-winning MSC Aurea Spa brings you the only Balinese Spa at sea and their massages and ultramodern beauty treatments including a sauna, Turkish bath, fitness centre, thalassotherapy room and relaxation area are truly unique.

You can view all of MSC Cruises from Southampton in the list below. If you would like to view the itinerary and latest fares click the blue 'View Details' button. If you would like more information and the latest availability click on the red 'Enquire Now' button.

MSC Cruises
MSC Magnifica
9th Jul 2018 - 10 Nights
Norwegian Fjords
Inside
£CALL
Outside
£CALL
Balcony
£CALL
Suite
£CALL
MSC Cruises
MSC Magnifica
19th Jul 2018 - 11 Nights
France, Spain, Netherlands & Germany
Inside
£CALL
Outside
£CALL
Balcony
£CALL
Suite
£CALL
MSC Cruises
MSC Magnifica
30th Jul 2018 - 10 Nights
Norwegian Fjords
Inside
£999
Outside
£CALL
Balcony
£CALL
Suite
£CALL
MSC Cruises
MSC Magnifica
9th Aug 2018 - 14 Nights
Spain, Portugal, Netherlands & Germany
Inside
£1099
Outside
£CALL
Balcony
£1759
Suite
£CALL
MSC Cruises
MSC Magnifica
23rd Aug 2018 - 11 Nights
France, Spain, Netherlands & Germany
Inside
£999
Outside
£1199
Balcony
£1399
Suite
£CALL
MSC Cruises
MSC Magnifica
3rd Sep 2018 - 10 Nights
France, UK, Netherlands & Germany
Inside
£849
Outside
£899
Balcony
£1399
Suite
£2049
MSC Cruises
MSC Magnifica
13th Sep 2018 - 11 Nights
France, Spain, Netherlands & Germany
Inside
£949
Outside
£1049
Balcony
£1299
Suite
£CALL
MSC Cruises
MSC Magnifica
24th Sep 2018 - 7 Nights
Northern Europe Cities
Inside
£989
Outside
£1339
Balcony
£1189
Suite
£CALL
MSC Cruises
MSC Magnifica
1st Oct 2018 - 7 Nights
Northern Europe Cities
Inside
£799
Outside
£899
Balcony
£999
Suite
£CALL
MSC Cruises
MSC Magnifica
8th Oct 2018 - 7 Nights
Northern Europe Cities
Inside
£CALL
Outside
£899
Balcony
£999
Suite
£CALL
MSC Cruises
MSC Magnifica
15th Oct 2018 - 7 Nights
Northern Europe Cities
Inside
£CALL
Outside
£1199
Balcony
£999
Suite
£CALL
MSC Cruises
MSC Magnifica
22nd Oct 2018 - 9 Nights
Journey to Genoa
Inside
£899
Outside
£949
Balcony
£799
Suite
£CALL
MSC Cruises
MSC Bellissima
4th Mar 2019 - 8 Nights
United Kingdom, Spain, Portugal
Inside
£1469
Outside
£849
Balcony
£1049
Suite
£1669
MSC Cruises
MSC Bellissima
4th Mar 2019 - 9 Nights
Mediterranean
Inside
£1549
Outside
£879
Balcony
£1129
Suite
£2169
MSC Cruises
MSC Bellissima
4th Mar 2019 - 10 Nights
Mediterranean
Inside
£749
Outside
£899
Balcony
£1149
Suite
£1769
MSC Cruises
MSC Preziosa
22nd Apr 2019 - 8 Nights
United Kingdom, Belgium, Norway, Germany, France
Inside
£779
Outside
£859
Balcony
£969
Suite
£1399
MSC Cruises
MSC Preziosa
30th Apr 2019 - 15 Nights
UK, France, Portugal, Spain, Netherlands, Germany
Inside
£1349
Outside
£CALL
Balcony
£CALL
Suite
£2479
MSC Cruises
MSC Preziosa
15th May 2019 - 7 Nights
UK, Belgium, Netherlands, Germany, France
Inside
£CALL
Outside
£CALL
Balcony
£CALL
Suite
£1399
MSC Cruises
MSC Preziosa
22nd May 2019 - 4 Nights
Southampton to Hamburg
Inside
£229
Outside
£CALL
Balcony
£289
Suite
£619
MSC Cruises
MSC Preziosa
21st Aug 2019 - 7 Nights
UK, Belgium, Netherlands, Germany, France
Inside
£799
Outside
£849
Balcony
£949
Suite
£1599
MSC Cruises
MSC Preziosa
28th Aug 2019 - 7 Nights
UK, Belgium, Netherlands, Germany, France
Inside
£799
Outside
£849
Balcony
£949
Suite
£1599
MSC Cruises
MSC Preziosa
11th Sep 2019 - 7 Nights
UK, Belgium, Netherlands, Germany, France
Inside
£599
Outside
£649
Balcony
£749
Suite
£1399
MSC Cruises
MSC Preziosa
18th Sep 2019 - 7 Nights
UK, Belgium, Netherlands, Germany, France
Inside
£599
Outside
£649
Balcony
£749
Suite
£1399
MSC Cruises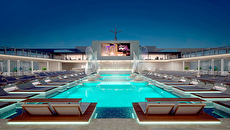 MSC Meraviglia
24th Sep 2019 - 14 Nights
United Kingdom, Iceland, Canada, United States
Inside
£CALL
Outside
£CALL
Balcony
£1599
Suite
£CALL
MSC Cruises
MSC Preziosa
25th Sep 2019 - 7 Nights
UK, Spain, Portugal, France, Italy
Inside
£499
Outside
£569
Balcony
£689
Suite
£1339
T&Cs: Please ask for general bookings terms & conditions, inclusions, cancellation charges and other information. Promotional details, fares and itineraries were correct at time of publish but can be changed/withdrawn at any time without notice. All offers are applicable to new bookings only. E&OE